Customer Service, Shipping, Returns and Warranty Information
Customer Service:
Phone: (574) 594-2035
Email: Sales@Banzai-Racing.com
Location:
Banzai Racing Inc.
110 E. Catholic St.
Pierceton, IN 46562
Shipping:
- All Banzai Racing Products are shipped out via USPS Priority Mail or UPS
- Other Manufacturer's Products may be shipped directly from our warehouses via UPS or FedEx Ground / Home Delivery Service, depending on location. Signature may be required for deliveries. If item is returned due to non-acceptance (non-signature), a 20% restocking fee will be assessed.
Payment:
We use PayPal to process all store purchases. This allows payment via Credit Card or with a PayPal account. We do not process payments over the phone.
Returns:
- Contact us prior to returning items for shipping directions and return information. No unauthorized returns will be accepted.
- Items may be returned for refund or replacement within 21 days of the shipment date.
- Returned items must be in original condition and packaging.
- Used or installed items cannot be returned.
- A 20% re-stocking fee will be applied.
- Shipping and handling charges are non-refundable.
- All returns must be accompanied by the original packing slip. Please include the reason for return.
- "Special Order" items cannot be returned.
- Electronic items that have been installed cannot be returned.
- All special or clearance sales are final and cannot be returned.
- Items returned that are not in original condition or packaging will be returned at customer's expense.
- We will accept returns for items directly purchased from Banzai Racing only. Items that are purchased from another supplier or reseller must be returned to the original seller.
- No refunds, Store Credit only
Warranty Information:
- All Banzai Racing products are guaranteed to be free from defects in manufacture, material, and workmanship at the time of sale. The warranty is limited to repair or replacement for a one-year period from the date of purchase.
- Warranty is void if the defect was caused by abuse, negligence and/or mishandling.
- Non-Banzai Racing products: If a warranty is offered by the manufacturer, all claims should be directed toward the manufacturer. i.e. A'PEXi, GReddy. HKS, Tokico, ACT, etc.
- We will NOT warrantee nor be held responsible for any damage or labor costs associated with the installation of customer supplied parts.
Privacy Policy:
We are the sole proprietors of information collected via this site. We will not sell or rent any information gathered from this site. We will not share your information with any third party outside of our organization, other than as necessary to fulfill your request; e.g. to ship an order.
Banzai Racing Product Installation Instructions:
Sponsorship
While we appreciate your interest, we do not get involved with sponsoring cars as our pricing structure is based on not having any marketing or distribution costs.
Wholesale & Distribution
Since we manufacture and sell directly, we do not have any wholesale accounts, distributors or dealers. This helps to keep pricing lower to the end consumer.
Manufacturers List
Click Here for a list of Manufacturers we carry.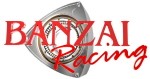 Contact Us for Rotary Engine Rebuild Quotes