Prepping your Engine Short Block for Shipping
We ONLY require the Short Block for engine rebuilds. We do not need the oil pan or pick-up tube unless we are installing a Banzai Racing Oil Pan Brace kit.
There is no need to build the cradle unless shipping the engine with the oil pan brace left on. We recommend that all engines be placed on a pallet that has been modified to protect the engine block. From our experience this procedure/setup works well;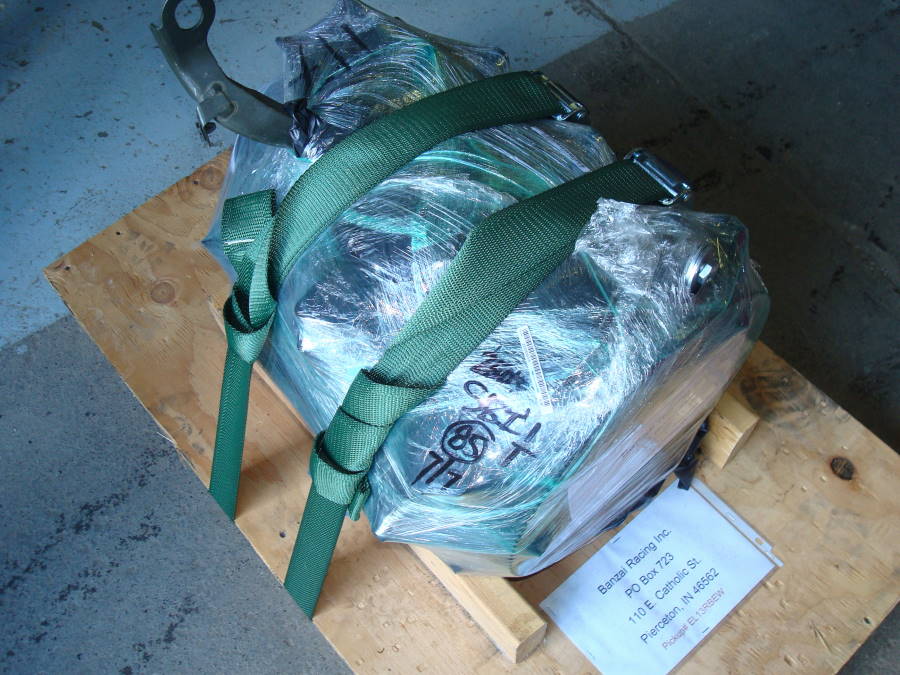 Prepared for shipment
Ensure that the engine is completely drained of fluids (coolant & oil) prior to shipping.
Cradle is not necessary unless we are installing an oil pan brace kit. Using 2" x 4" wood, create a 'cradle' approximately 12" x 14" inside dimensions (see pictures #1 & #2 below). This will allow the Oil Pan lip to rest on the supports, protecting it from being crushed during transit.
Place a large (39 Gal.) heavy-duty garbage bag inside the cradle or under the engine (Pictures #3, #4 & #5). This will capture any remaining fluids during shipping and help protect the engine block.
Use duct tape or masking tape to seal all engine openings to prevent any foreign items from falling into the engine (pictures #6 & #7, #8).
Use the garbage bag to cover entire engine (pictures #9 & #10).
If possible, shrink-wrap engine for further protection (pictures # 11 & #12).
Use tie straps to secure the engine to the pallet (pictures #13 & #14).
Attach address labels securely to the engine and pallet to ensure that they do not become detached.
Ensure that you have two copies of the Bill of Lading (BOL) ready for the driver.
We have negotiated discounted rates with several carriers throughout the US. We are more than happy to provide a quote and schedule shipping to & from our facility. If you want us to provide a shipping quote, please contact Sales with the following information:
When checking shipping quotes yourself, you will need the following information:
Zip Code from your destination to our location: 46562 Commercial Address

Weight of a short-block: 200 lb. (Pallet plus engine approximately 250 lb.)

Class: #85
Photographs of prepping the engine for shipping
| | | | |
| --- | --- | --- | --- |
| | | | |
| #1 Empty Pallet | #2 Empty Pallet | #3 Engine on Pallet | #4 Engine on Pallet |
| | | | |
| #5 Engine on Pallet | #6 Engine Sealed | #7 Engine Sealed | #8 Engine Sealed |
| | | | |
| #9 Engine Covered | #10 Engine Covered | #11 Shrink-Wrapped | #12 Shrink-Wrapped |
Engine Block Ready for Shipping
| | |
| --- | --- |
| | |
| #13 Secured to Pallet & Labeled | #14 Secured to Pallet & Labeled |
Click on images for larger view
Click Home button to visit Banzai Racing's Website